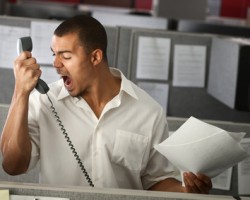 Any business with computer systems and users has to deal with issues related to them (sometimes more with the users than the computer systems). These issues need to be, and are, resolved; but are they tracked? Tracking of IT issues and requests can help businesses make better decisions about their operations and requirements. Using that data you can make a case whether more resources are required, determine what can be improved and measure results of any IT initiatives.
In large businesses, there is often a process whereby calls are channeled through a help desk and the issue or request is recorded then addressed. The help desk may be able to help in some cases, otherwise they are routed to someone who may help them. Through the help desk, all issues and requests are automatically tracked.
Small businesses with a dedicated IT person, may not see the need for such a solution as there's no team to support the systems, and as such only one person will know about the problem. The calls go directly to the IT person and he or she would then take care of the problem… until they don't—to err is human after all. But help desk software can be useful to small businesses as well, whether you have just one IT person, or none at all.
What helpdesk software can do
Some ways that helpdesk software can help businesses:
1) To record issues. This helps in not just knowing the type of calls that come in, but what was the cause, what was the resolution, how long did it take to resolve, and if it is recurring. This is useful information that can help take a proactive approach to managing your business operations; it can help prove a case where there are just too many issues to be resolved by a single person.
2) To act as a single point of contact. Even if you have just one person, help desk software can record issues if that person is unavailable on reachable. The systems may also be able to automatically provide suggested solutions to problems, and ease up the IT person in some cases.
3) To prepare for contingencies. So you have an IT person. One day he gets perturbed and disappears, never to be seen or heard from again. Now this rarely happens, but what if it did? Can someone new come in and be able to hit the ground running? Would they be able to understand and support the current systems? Would they be able to know what are the existing issues that need a resolution? This is where helpdesk system can help as it would have a record of issues, assets and other useful information that a new person can use.
4) To provide feedback. Some help desk systems can automatically provide feedback to users on where the case has reached, if a resolution has been found, or if it's in a pending state awaiting response from someone or a vendor. This can help improve internal customer relations and help fast track resolution of issues because information is not in a 'black hole'; someone may be able to intervene and remove any blocks preventing progress.
5) To speed up request fulfillment. Some help desk software can help automate the fulfillment of certain requests such as password resets or software installations. This can significantly reduce the burden on the IT administrator as a great number of calls comes from requests such as these.
6) To provide an automated workflow. Many help desk solutions can escalate issues depending on urgency and how long the issue was reported. Some can send fulfillment requests automatically to the person who needs to approve the requests. This can speed up resolution to both issues and requests to improve turnaround times.
What options are available for SMEs
With all these advantages, why haven't more small businesses invested into help desk software? Well perhaps they seem cumbersome or costly. Well the good news is that there are lots of solutions available out there that's easy to implement and easy on your pockets. Here are some:
Spiceworks – Spiceworks is one of the top free helpdesk/network management applications around and is ad supported. The software is connected to a vibrant community of users so you also have access to a wealth of knowledge online. As long as you're okay with ads, Spiceworks can work for you.
Sysaid – Sysaid is commercial software, but a scaled-down, freeware version is available for use that is suitable for many small businesses.
Zendesk – This is one of the top cloud-based helpdesk systems out there. They used to have a free tier, but at US$12/year/agent for the starter version, it's still a pretty good deal.
Zoho Support – Another cloud-based helpdesk service provider, but this one has a free tier.
With all these options available, there's very little reason why a small business cannot invest in a help desk system. While the free versions of some of the software may not provide all of the advantages of a full-fledged system, such as automation and asset management, it's a place to start and often provides an avenue to scale to the higher versions as time and needs progress.
Next Step
If you're a small business with a small or no IT department, perhaps you should take a look at investing in helpdesk software. Investigate the ones that I've mentioned above and see if any fits your needs. You may even find use for it in other parts of your business besides IT.
Are you a small business who has invested in helpdesk software? Or are you interested to find out more about how helpdesk software may help you? Add your experience or questions in the comments below and let's start a discussion.