Earlier this year, in January, AllthingsD asked the question, "Has Big Data Reached Its Moment of Disillusionment?". They later repeated that statement in August. Based on the comments on those articles, there are certainly mixed feelings about the value of Big Data.
Both of those articles refer to the Gartner Hype Cycle (see image below), and more specifically to the 'Trough of Disillusionment', where "Interest wanes, as the technology fails to deliver on inflated expectations and promises". And there is evidence that big data has indeed followed Gartner's model, and is probably approaching the trough.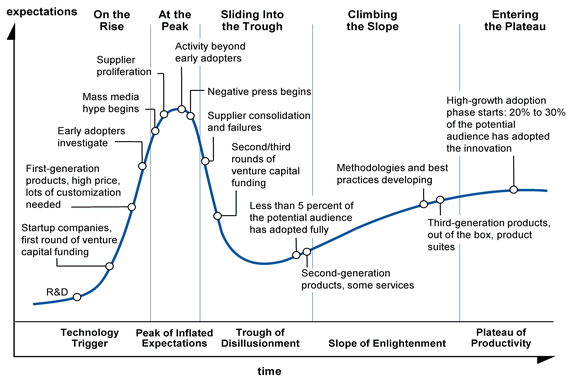 Now, a new Gartner report entitled "Big Data Adoption in 2013 Shows Substance Behind the Hype" says that 64% of organizations polled have invested or plan to invest in Big Data within the next two years. This is up from 58% last year.
Interestingly, 56% of those polled gave "Determining how to get value from big data" as one of their top three big data challenges. This says to me that businesses want big data, they just don't know what to do with it.
I still consider big data to be a solution in search of a problem. Adopters have implemented big data analytics hoping for insights, but it's hard to find something when you don't know what you're looking for. The thing is that right now, it's hard to say what kind of insights big data can bring, and further, what returns would those insights bring. As more products come into the space to drive the prices down, it may then become feasible.
Big data may have real value for Geospatial purposes, or for analyzing large quantities of open data for research or government. But in business, I'm sceptical of its advantages. Business should do a proper ROI before making any investments and not follow the hype.
If indeed big data is following Gartner's Hype Cycle, then we are already sliding into the trough of disillusionment: we have activity beyond early adopters, and negative press. Next is supposed to come some failures, so look out for that.