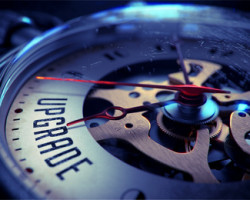 Over the past month or so, I've been looking for a used vehicle to buy to complement my other vehicle, since between my wife and I, one vehicle has not been enough.
There are so many vehicles being sold after being owned for as little as a year. Many more after three years.
I couldn't help but notice the similarity to what we in IT call the "technology refresh". This is where old hardware is changed, to newer ones, after reaching its "end-of-life". I often wonder why we call it end-of-life, since the device may be still alive and kicking, and posing no problems whatsoever.
The question arises: Is a technology refresh necessary?
The main arguments for the technology refresh are:
The device has reached end-of-life, which could mean that it's no longer being sold or it will no longer be supported. Therefore, you will not be able to get replacement parts for it, or support if anything goes wrong.
There may be new features available on new devices that you can now take advantage of.
You need to ensure that the network is highly available so by using newer hardware, you can improve availability.
Performance limits on older hardware stifles growth and newer hardware would improve it.
Let's look at some of these arguments.
If a device has reached end-of-life, it does not mean that it's not supported as a vendor may support a product long after this date. Nor does it mean that you can't get a replacement if necessary.

I would advise that you purchase a few spares so that you can replace devices if anything goes wrong. When you replace those spares, purchase newer devices, checking to ensure that there are no compatibility issues, which would then replace other devices that malfunction. Spares should be an important part of any business that wants to ensure availability.

If there are new features available, are you going to use it? You can find out those features before purchasing and determine if there is a need for it. Don't purchase something simply because there may be a need for it in the future.

I've seen many businesses purchase newer equipment to replace older ones, and they're configured exactly the same. No changes whatsoever, so there's no difference between the two.

There is some truth to the failure of devices the older they become. There is a figure called the "Mean Time Before Failure" or MTBF for short. This is a probabilistic number that indicates the average run-time of a device before it may fail, or the average time between failures. I've seen devices fail within days of being installed, and some devices that have been running for more than 10 years. Proper maintenance often improves the lifetime of a product.

Purchasing spares would improve availability by ensuring that failed devices can be replaced quickly.

Newer devices would typically offer better performance once you are replacing a device with the vendor's updated part. But do you need better performance?

Many businesses do not monitor or analyse their network performance to determine whether they are under or over capacity. They generally go with the feeling of the "network being slow" or whether users complain about the same. Then wonder why little has changed when switches or routers are replaced.

Slow performance may be due to the network, or to the applications, or servers running the applications, or clients accessing the application, or just people having different perceptions. Unless you are monitoring the performance of your network, it's difficult to prove whether things are getting better, worse, or unchanged, and where it's happening.
So are there reasons to do a technology refresh? Yes, I do agree that there are some, which I discuss in my next post.