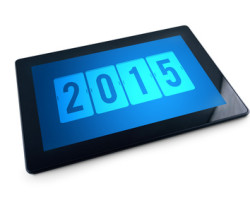 The new year has started and once again I try to predict what the future holds for IT.
The Caribbean is still trying to keep up with global development trends, but that's not to say that we are not making any successes.
Despite the downturn in many of our economies, and the high-debt in some cases, we've had new entrepreneurs launch businesses, and organisations make large investments in new infrastructure.
So interest and investments are there.
These are what I see as trends that you should look at for the year ahead. There's a lot of hype behind these trends, so take them with a pinch of salt.

1. The continued exponential growth of the Internet of Things…
The Internet of Things (IoT) continues it's hype and growth trend, and for good reason. The IoT offers some of the greatest opportunities at this time and has the power to impact chain management, energy management and personal healthcare.
The continually decreasing costs of electronic sensors and computing power, coupled with a rapidly expanding maker movement has added fuel to the growth.
My prediction is that the IoT will continue to grow, along with privacy and security concerns.
2. … followed by the continued growth of big data, data analytics and visualisation…
With the sheer amount of data being produced by normal business operations, the addition of the data from IoT will now pose a challenge on how that data can be used. This is where data analytics come into play, with a new position within the company called the data scientist, whose role will be to help make sense of all this data, which includes visualisation.
So far, businesses have not had much success getting returns from big data, nor are they implementing large scale deployments, but it has not stopped them from making investments in big data technologies.
My prediction is that businesses will continue to invest in big data, but still struggle to get returns from it. Data scientists are going to make a killing though.
3. … and adoption of reliable enterprise wireless networks
Too many organisations use consumer grade wireless access points (WAP) in their network to provide wireless access to users. These devices may have a lot of security weaknesses, and further, there may be no management capabilities built in. You can't tell how the wireless network is performing, and worst, can't tell if someone is trying to break in. The only indication that you have that something is wrong, is when users complain.
Many of the sensors used for the IoT requires wireless access, and organisations hoping to take advantage of those technologies now have to re-look at their wireless infrastructure and replace it with enterprise grade devices with centralised control and management, and far greater security features.
This is not to say that only if you have an IoT project at hand you should consider enterprise wireless networks. Unless you're a home user, you should always consider enterprise wireless network infrastructure.
My prediction is that with the proliferation of mobile devices, and the IoT, you will find enterprises implementing enterprise wireless infrastructure.
4. Software defined everything
Software Defined Everything is really the virtualisation of hardware via software and includes Software Defined Networking (SDN), Software Defined Storage (SDS) and Software Defined Data Centre (SDDC). SDN is the main leader in this trend, with many competing technologies available. Commercialisation has already started with offerings available from leading vendors such as VMWare and Cisco.
My prediction is that businesses heavy in VMWare technologies may move to adopt SDS and SDDC, however, the current trend of few businesses adopting SDN will continue until a major standard emerges.
5. Automating the enterprise
This is not new, but new technologies are making it easier to automate processes and keep track of changes. Products such as Puppet and Chef, and programming capabilities built into virtualisation as VMWare has.
My prediction is that as more services are being brought online, IT departments will need to look for automation technologies to help manage the new services and infrastructure. IT staff will have to learn to write code and scripts, with some becoming increasingly fearful of automating themselves out of a job.
6. Greater adoption of cloud services and mobility
In the Caribbean, companies are slowly moving services into the cloud, but concerns about costs and reliability of Internet services pose challenges.
Microsoft has been generally successful with getting users of its office suite to move into the cloud, but I'm not exactly sure if the businesses are actually using the cloud services, or just taking advantage of the lower licensing costs. I've only come across one company utilising Microsoft's Azure to run internal services.
That's not to say that adoption is not coming. On the contrary, I'm seeing much more renewed interest in the cloud and expect more organisations to make the switch this year, especially to Microsoft Office 365.
With the growing adoption of cloud services, I predict that more mobile access will be requested by end users and management to allow them to work on the road. Meanwhile, data loss due to theft of mobile devices will increase.
7. Greater IT security within organisations
This is really a hope rather than a trend. With the rash of high profile hacking that took place last year (Sony, JPMorgan Chase & Co, Home Depot), many companies should take a deep look at their security processes and infrastructure.
But I don't expect to see that in the Caribbean, because you don't hear about any attempts or breaches in the Caribbean. While I may hear something from someone who knows someone, there is no requirement to report breaches, and the cybersecurity monitoring and response mechanisms are almost non-existent at this time.
My prediction is that organisations within the Caribbean will continue to take security for granted with one high profile attack happening this year to change things around.
More?
Do you think there are any trends that I missed in my list? Let me know in the comments section below.
I take this opportunity to wish you a happy and prosperous 2015. Be safe out there.